What You Will Gain By Joining Us For Coach Change: Making Change Happen
Coach Change: Making Change Happen is your opportunity to learn more about the power of coaching in change management.
You will hear from both internal and external change practitioners as they share their stories of where coaching has contributed to change success, and where it has not.
Presenters will share how learning coaching skills has fundamentally changed the way in which they show up in their roles.
And you'll hear how the application of coaching skills when working with business owners, sponsors, leaders, and even stakeholders has contributed to improved change success.
Here are just some of the powerful discoveries you can look forward to when you join us for Coach Change: Making Change Happen:

Coaching Skills for Change Management Professionals in a VUCA World

Becoming Stronger in the Areas of Communication, Engagement, and Enrollment

Building Relationships with Sponsors and Stakeholders to Gain the Support You Need

3 Types of Coaching Intelligence That Make Coaching for Change Possible

How to Use Coaching Skills to Support Your Overall Leadership Abilities

Making an Effective Case for Change and Securing Buy-In From Your Organization

Knowing and Understanding Your Client Through a Variety of "Lenses"

Why Coaching is Different from Consulting, and Why Coaching is Sometimes More Effective

Using Coaching Skills to Support Your Consulting Skills and Master Your Own Strengths

Communicating Effectively to Cultivates Learning and Growth Across the Organization

Navigating the Minefields, Confusion, and "Disasters" of Organizational Change

Powerfully Managing Expectations for Sustained Change in an "On-Demand" World

How Coaching Skills Make You Much Better at Your Current Methodologies

And much, much more in this one-of-a-kind virtual change coaching learning experience!
Your Coach Change: Making Change Happen Benefits & Experience
As part of the complete Coach Change: Making Change Happen experience, you will enjoy:
Curated Sessions for You on Current Issues in Coaching Change and Making Change Happen
Get hands-on by attending our topic-based sessions, led by top leaders who set the standards in today's environment of business.

Live Sessions with Time for Q&A and Discussion After the Presentations
Through a combination of interactive activities mixed with Q&A sessions, you get the opportunity to ask the presenters your questions about your projects, your challenges, and your opportunities as a leader!

Live Facilitated Networking At the Beginning of the Conference
Get to know others who, like you, are investing in success. Experience the CMR Factor (Clarity, Mastery, Relationships) as applied to Change Leadership for Change Coaching and Making Change Happen firsthand!

Raise Your Value As A Leader of Change
Gaining access means you will be the first to know about the latest in change management coaching – especially relevant in these times.

Complimentary Viewing of Session Recordings & Access to Handouts
Can't make it to a live session? Rest assured, you won't miss a thing. Replays of the presentations will be posted in your Members' Area shortly after the one-day virtual summit ends so you keep up to speed.

One Year of Access to the Recordings
You will not miss a thing, even if you cannot be live for every single session. Recordings will be loaded in the same members' area you join when you claim your ticket now.

Intimate Setting with Limited Number of Participants
Registration is limited. This gives every participant the opportunity to get their questions answered and make their voices heard!
Your Coach Change: Making Change Happen Conference Schedule
Once you claim your spot, reserve the following date and time on your calendar:
Wednesday, June 21st: Coach Change: Making Change Happen Conference

8:30 AM until 5:00 PM (Eastern time)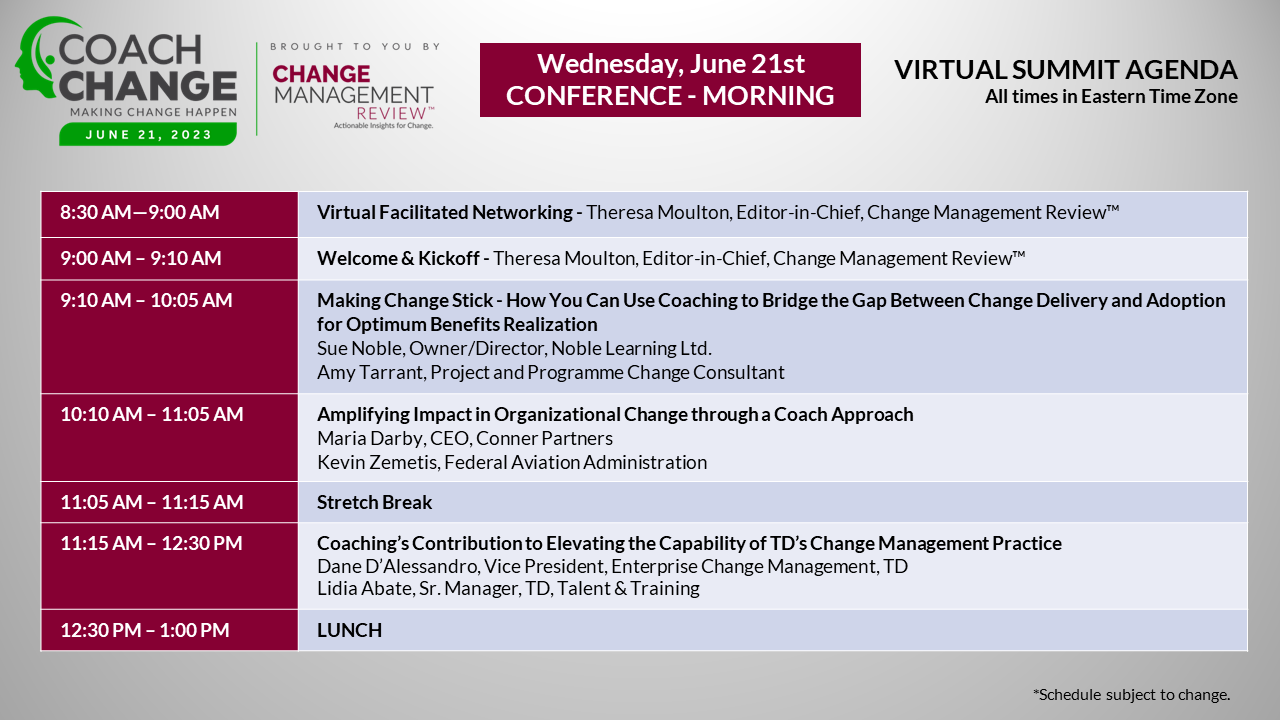 What You Will Experience at Coach Change: Making Change Happen
Since 2015, Change Management Review™ brings together internationally-recognized business leaders and practitioners in Change Management and beyond, all in one place.
Coach Change: Making Change Happen is organized around the process of successfully leading and implementing organizational change initiatives by using the art of change management coaching to create alignment, support, and buy-in.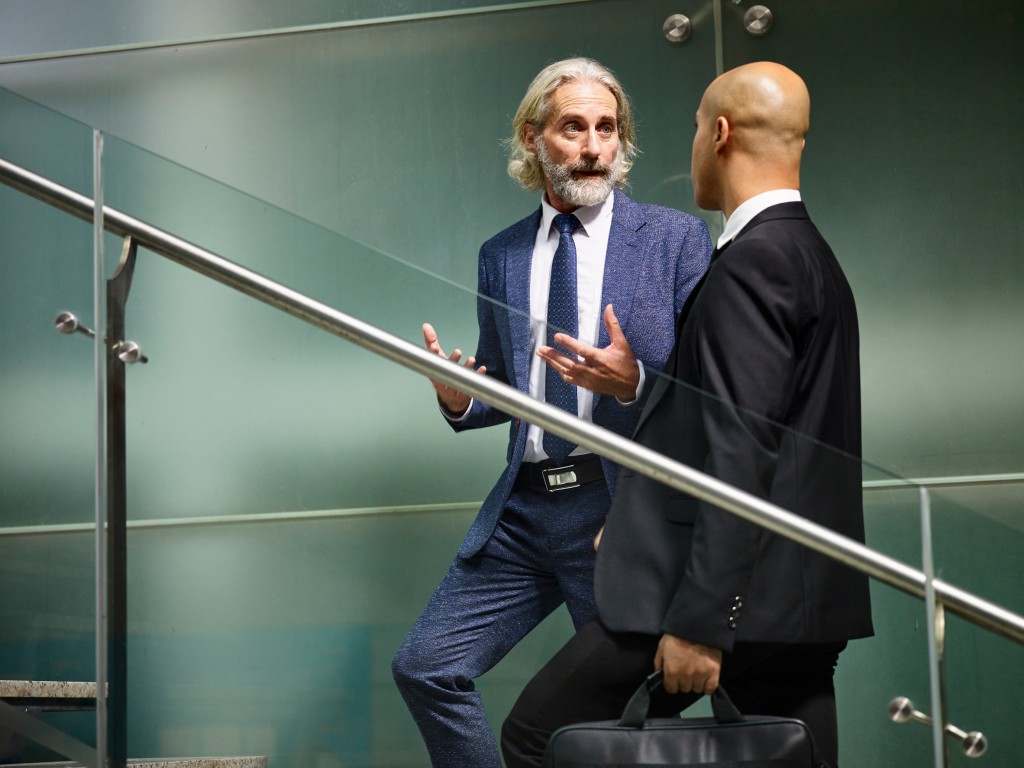 Wednesday, June 21st will be a one-day virtual conference where we'll come together to create a common understanding of the impact and value of change management coaching on individuals as well as the organization as a whole.
We'll hear from expert change leaders who've led or supported their leadership of organizations, teams, and individuals using change coaching, and then we'll dive into specific topics and case studies to illustrate how this makes change happen.
Meet Your Coach Change: Making Change Happen Presenters & Faculty
Your Coach Change: Making Change Happen Presenters:
Your Coach Change: Making Change Happen Host:
Now Is The Time For A New Approach To Change Leadership!
One of the top questions we've been hearing is:
"Why is signing up for Coach Change: Making Change Happen so important to change management professionals and business leaders, like me, today?"
As a change practitioner, rarely is the challenge knowing what to do or when to do it.
The evolution of our profession has led to the development of numerous powerful methodologies scalable from minor local changes to global transformations.
Your real challenge comes from those business owners, sponsors, and leaders across the organization who sincerely believe that they know their role in change and don't need you consulting with them on how to execute that role.
It's likely that many of these same men and women are supported by internal or external executive coaches working with them on everything from improving their ability to have tough conversations to leading in a virtual or hybrid work environment.
Coaching has lost its stigma as a last resort performance improvement effort and is now recognized as a powerful tool for supporting professional growth.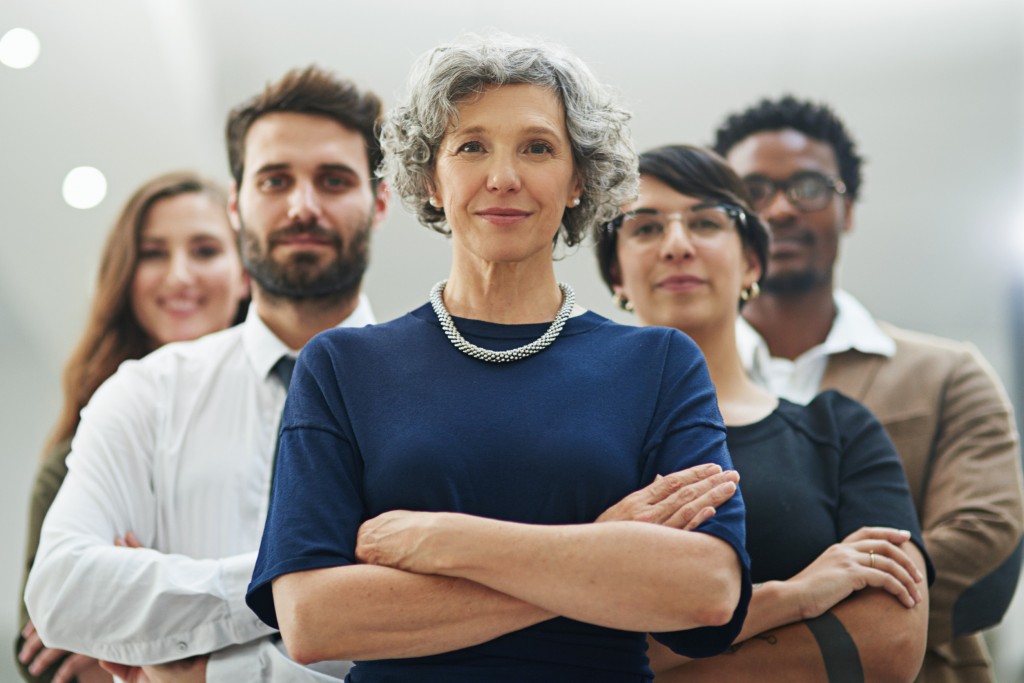 Increasingly, coaching can be found from the front lines to the C-suite.
Professional coaches are training in the field of change management and change management professionals are learning how to integrate a coach approach in their practices.
As recognition of the value of coaching spreads, more and more organizations will be expecting change practitioners to develop and apply coaching skills.
Aside from formal certification training, there really isn't a tangible mode to learn more about what is going on and what works unless one attends a conference or an in-person seminar.
Coach Change: Making Change Happen is an inexpensive means for you, to learn, grow, and understand the business world around you…
…from the perspective of the well-known experts and senior leaders you will meet when you join us.

Claim Your Ticket Now – All-Access Passes (With Replays) Available For A Limited Time!
Before you claim your ticket below to complete your instant online registration, please note the following.
Because the entire event is interactive, in order to maintain high quality interaction, registration is strictly limited – and we sell out every one of our virtual conferences.
As soon as you complete payment, you will be redirected to our exclusive Members' Area to set up your username and password.
Log in and be on the lookout as we will be sending your unique attendee links to log-in for the live presentations, via e-mail as we get closer to the start date.
Claim your ticket now, before all spots are filled.
NOTE: Corporations and organizations sending 3 or more team members qualify for a group discount rate of $149/ticket – e-mail editor@ChangeManagementReview.com for details.
Just $149 USD (SUPER-Early-Bird Pricing Until Friday, May 12th at 5:00 pm Eastern)
Just $199 USD (Early-Bird Pricing Until Friday, June 16th at 5:00 pm Eastern)
CLAIM YOUR TICKET NOW: Just $299, All-Access Pass Includes Replays
Claim your all-access ticket now: